You know you have an awesome recipe when the kids walk in the front door at the end of the school day and say "Mom, what are you making? I need to eat it, now." That was both of my daughters' reactions when I made this delicious slow cooker butternut squash soup. Fall is the season of squash, the markets are filled will every variety. Our favourite squash to make soups with is the classic butternut squash. After a long work day there is nothing quite like being greeted with a warm slow cooker full of homemade soup. This recipe could not be easier to make - toss all the ingredients into the slow cooker before you walk out the door in the morning. Bake up a batch of maple syrup roasted squash seeds with the kids and add a little sweet crunch to the soup. A simple, hearty and healthy dish that is a real crowd pleaser.
Slow Cooker Butternut Squash Soup
Ingredients
3 lb butternut squash
2 medium carrots
1 apple, whatever variety you have on hand, we used a gala
2 shallots
2 cloves of garlic
2 cups vegetable stock
1/4 tsp nutmeg
1/4 tsp cinnamon
sprig of fresh sage
1/4 tsp each salt and pepper
1 tbsp sour cream
Directions

Peel, seed and chop the squash into 1/2 inch pieces. Toss into the slow cooker.

Peel and chop carrots into 1/2 inch pieces. Toss into slow cooker.

Chop shallots and garlic and toss into slow cooker.

Sprinkle in nutmeg, cinnamon, salt and pepper. Toss in sage.

Pour in vegetable stock.

Cook, covered, in slow cooker - 4-6 hours on high or 6-8 hours on low.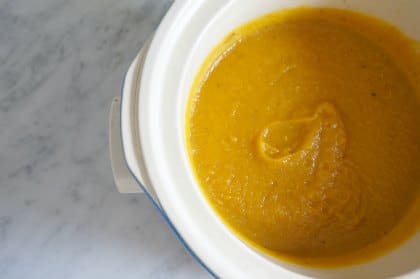 Once the time has elapsed and the vegetable are all soft, use an immersion blender to pureé the vegetables, or carefully transfer the cooked vegetables to a blender and pureé. Be careful, the soup is HOT.

Stir in sour cream and serve.
We thought it would be fun to roast the squash seeds, much like we roast our pumpkin seeds, and add a little crunchy sweetness to the soup. The kids love getting their hands dirty playing with those slippery seeds.

To make roasted squash seeds simply clean off the seeds that were removed from the squash, rinse them and pat dry.

Toss seeds in a mixture of 1 tbsp maple syrup, 1 tbsp canola oil, pinch of cinnamon and a pinch of salt.

Place on a parchment lined baking sheet and bake in 350°F oven for 10 minutes, turn and roast an additional 10 minutes.

Let cool and sprinkle on top of the soup.

Enjoy!
RELATED: The Easiest Way To Roast Pumpkin Seeds