Put that can of alphabet soup down! I know that making soup sounds daunting. Why would anyone make soup, when it is so easy to open a can? The answer is simple: if you make it yourself then you control what goes into the soup. Plus, this homemade soup is incredibly delicious - like drop your spoon on the floor delicious. This hearty vegetable alphabet soup will have your kids not only spelling words, but they will be eating vegetables too. Educational and nutritious.
On our unending hunt for great lunch box ideas, soup is a really easy option for kids. We used a garden of frozen vegetables (keeping costs down) to make this vegetable alphabet soup. If your children aren't keen on eating veggies, I've included a quick step that will help you hide them. There is nothing quite like homemade soup with some crackers for lunch.
Don't forget to put a spoon in the lunch box.
Vegetable Alphabet Soup
Ingredients
1 tbsp olive oil
1 shallot, finely chopped
1 clove garlic, finely chopped
1 stalk celery, thinly sliced
1/4 tsp each; dried thyme, dried basil, dried oregano
4 cups vegetable stock, plus 1 cup vegetable stock
1 can diced tomatoes
1/4 cup tomato paste
2 cups frozen vegetables
1/2 cup frozen corn
1/2 cup dried alphabet pasta
Directions

Heat oil over medium heat.

Add onion and sauté until onion is softened.

Add garlic and celery, sauté until softened.
.

Stir in dried thyme, dried basil, dried oregano, salt and pepper.

Pour in can of tomatoes, tomato paste and 4 cups of vegetable stock.

Bring to a boil and drop to a simmer. Simmer for 20 minutes.


Add frozen vegetables. Bring to a boil and drop to a simmer. Simmer for 10 minutes.

Stir in dried pasta and the additional 1 cup of vegetable stock. Simmer for 10 minutes.


Serve soup right away (because you simply cannot resist it), or set aside to cool and store in a container in the fridge until ready to eat.

Enjoy
Helpful Tips: First of all, choose frozen vegetables that your children like to eat. I selected a combination of yellow carrots, orange carrots, lima beans, zucchini and green beans. If your kids don't like eating vegetables, no problem. Before you add the dried pasta to the soup, use an immersion blender to puree the vegetables.
.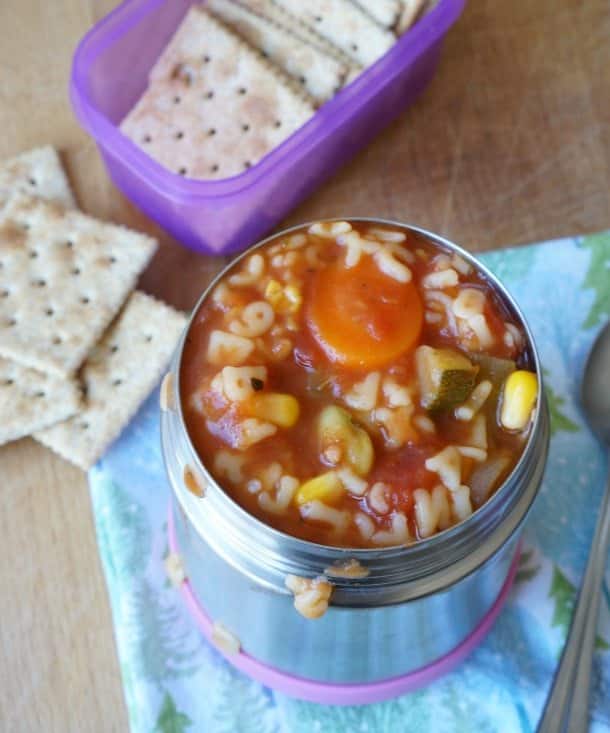 Finally, this soup makes a perfect addition to your child's school lunch box. Warm up the soup in the morning and add it to a pre-heated thermos. Add boiling water to the thermos and let it sit in the thermos, pour out the hot water right before pouring in the soup. This trick will help keep the soup warm until lunch time.
RELATED: Hearty Potato Cheeseburger Soup