Okay, this is one of those unbelievable recipes. If you have never tried this before, you will not believe me until you try it for yourself. Did you know that cauliflower can be totally transformed, become light, fluffy, and be completely unrecognizable? All you need is one head of cauliflower and a food processor. That is all you need to make cauliflower couscous.
My kids love couscous. The tiny fluffy pasta is simple to make and is super versatile. The problem is, like most families, we eat a lot of pasta. In the hunt for a easy pasta alternative that adds more veggies to our plate, I discovered the magic of cauliflower couscous. Making the switch is deliciously simple and the kids love it. Somehow cauliflower takes on the same fluffy and nutty texture and flavour of couscous. Gather up the ingredients for a classic Greek salad and add some fluffy cauliflower couscous. Everyone in the family will enjoy this extra healthy dish. The best part is this salad makes a delicious addition to packed school lunches. Make up a batch on the weekend and add it to the lunch boxes all week long.
Ingredients
1 head of cauliflower
1 cup cucumber, chopped
3 plum tomatoes, chopped
1 cup green pepper, chopped
handful of pitted kalamata olives
100g crumbled feta cheese
1/4 cup extra virgin olive oil
3 tbsp red wine vinegar
juice of half a lemon, about 1 tbsp
1 tsp dijon mustard
1 clove garlic, minced
1/4 cup fresh oregano
salt and pepper to taste
Directions

Cut cauliflower into florets that fit easily into food processor and process on "high" until light and fluffy.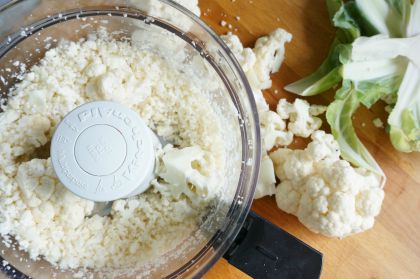 Pour into a large bowl and set aside.

Combine cucumber, tomatoes and pepper in small bowl.

To easily pit kalamata olives hit olive with the side of a large knife. The smash will crack the skin of the olive, revealing the pit inside. The flesh of the olive will easily peel off and the pit can be removed.

Add to the bowl of vegetables.

T o make the vinaigrette, whisk together olive oil, vinegar, lemon juice, garlic, salt and pepper in a large bowl. Pour vinaigrette over the cauliflower rice and toss to coat.

Add vegetables, feta cheese and oregano to the cauliflower and toss to coat with vinaigrette.

Cover and chill until ready to serve.

Enjoy.
RELATED: You'll Never Guess What Makes The 'Rice' In This Fried Rice Recipe