Do you remember the first recipes you made when you moved into your first apartment? Was there a particular dish that you ate over and over again? I can clearly remember making vegetable stir fry most weeknights. A simple and healthy dinner that was made even better because I had made it by myself, in my apartment with the dishes I had bought and the groceries I had picked out. Yes, vegetable stir fry is one of those staple recipes that become the foundation of our culinary lives.
This year, the team behind Food Revolution Day (taking place on May 20th) are focusing on building a good culinary foundation. Instead of focusing on one day and one recipe, this year Food Revolution Day is about 10 deliciously basic recipes that will help families eat healthy all year round. What recipes do you turn to on busy weeknights? Which recipes do you modify and switch up depending on the season or the budget. That's what great basic recipes are - an opportunity to enjoy a homemade meal that you enjoy over and over again.
Weeknight Vegetable Stir Fry
Ingredients
2 shallots, sliced
1 garlic clove, sliced
1/2" ginger, grated
2 cups broccoli flourets
3 medium carrots, sliced into ribbons
1/4 cup pine nuts
1 cup canned chick peas, rinsed
1 cup sugar snap peas
noodles of choice
1 tbsp vegetable oil
1 tbsp sesame oil
1 tbsp soy sauce
Directions

Follow package instructions for how to prepare your choice of noodles. Prepare noodles and set aside.

Add pine nuts to a large sauté pan, over medium heat. Lightly toast pine nuts and then dump nuts into a small bowl and set aside.

Heat vegetable oil in the large sauté pan. Add shallots, garlic and ginger. Sauté until softened.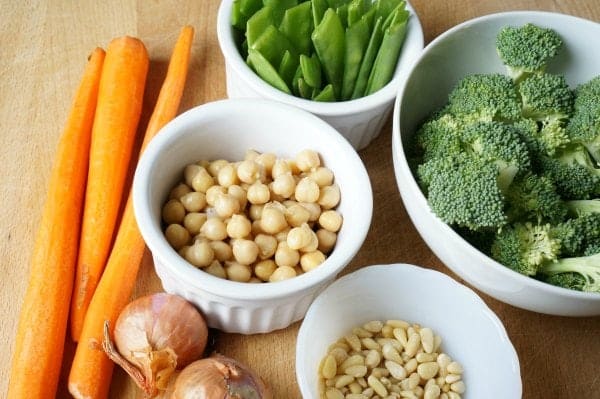 Stir in broccoli, snap peas, carrots and chick peas. Sauté until broccoli is softened - approximately 5-7 minutes.

Pour in sesame oil and soy sauce. Add in the noodles, toss and remove from heat.

Sprinkle with toasted pine nuts.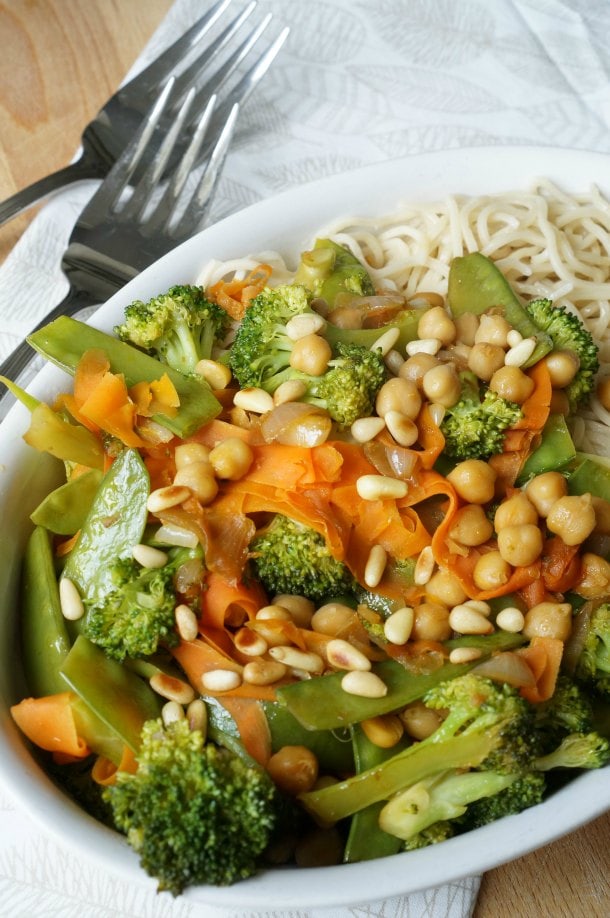 Enjoy.
RELATED: Spring Asparagus Tart