You are out hiking through the woods with your kids and someone starts complaining that they have been stung by something, but there isn't a bug to be found. What you do see is a tall plant with multiple, jagged edges on the dark green leaves. You have run into the common wildflower, stinging nettle. Stinging nettle is native to Canada (and most of North America, Europe and Asia). Often thought of as a weed, stinging nettle has been valued over time and across many cultures as a healthy, nutritious and fibre packed plant. Ask my daughter, and she'll tell you that the sting hurts and she cannot even begin to imagine actually eating it. Yet, that is exactly what we did.
While it is possible to forage for stinging nettle in parks and forests, I prefer purchasing my stinging nettle at our local farmers' market. If you plan on taking the "pick your own" route, be sure to wear long sleeves and gloves to avoid being stung. The sting usually lasts anywhere from a few minutes to a few hours. So, how can we possibly eat it and why would we want to eat it? Never fear, there are a few simple ways to get rid of the sting; cook the plant, soak the leaves or dry the leaves. Stinging nettle is similar to spinach and is a great source of vitamins A, C, D, iron, potassium, magnesium and calcium. We picked up a (well sealed) bag of stinging nettles and transformed them into delicious stinging nettle spanakopita.
Stinging Nettle Spanakopita
Ingredients
6 sheets of phyllo pastry
2 tsp melted butter
2 tbsp extra virgin olive oil
2 cloves garlic, minced
1 shallot, finely chopped
8 cups stinging nettle leaves and thin stems
1 tbsp lemon juice
6 ounces feta cheese, crumbled
salt and pepper
Directions
A word of warning - do not handle the stinging nettles with your bare hands. To wash the stinging nettle leaves, wear gloves or place plastic bags over your hands. Pick through nettles and choose the leaves and tender stems. Use tongs to place the greens in a large bowl of cold water. Swish them around and wash off any dirt. Dry nettles in a salad spinner and set aside. The kids can help with this step, as long as they are wearing gloves and use tongs.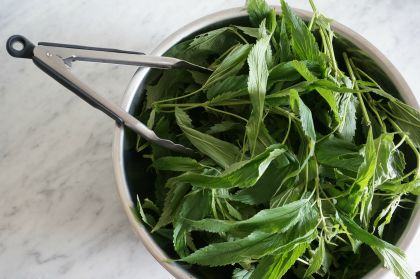 Pour olive oil into a large skillet and warm over medium heat. Add shallot and garlic in oil. Toss and heat until shallots and garlic have softened.
Once the shallot and garlic are soft, use tongs to add the stinging nettles. Stinging nettles cook like spinach, the leaves will wilt down from the heat in the pan. Toss the nettles with the shallot and garlic. Splash with lemon juice and add salt and pepper.
Once all the nettles have wilted, remove the mixture from the heat and set aside to cool. The nettles are perfectly safe to touch and eat now - the kids won't believe you - but they really will not sting.
Pour the nettle mixture onto a chopping board, use a sharp knife to finely chop the nettle mixture.
Add the crumbled feta cheese to the cooled greens and toss until well combined. Add more salt and pepper to taste.
Lay once piece of phyllo pastry on the counter and brush with melted butter. Layer on a second piece of phyllo pastry. Cut the phyllo pastry into thirds. You should have three long strips of phyllo pastry.
Working with one strip of pastry at a time, place 1 tablespoon of filling onto the end of the pastry that is closest to you. Now, fold the phyllo pastry over and to the left, creating a small triangle. Repeat the triangle fold all the way up the pastry.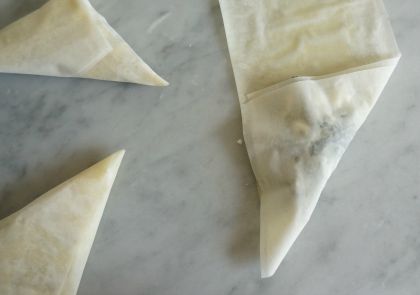 When you reach the end of the pastry, brush the outside with a little more melted butter and set on a parchment paper lined baking sheet. Repeat until all the filling has been used.

Bake the stinging nettle spanakopita in a 350°F oven for 15-20 minutes, until golden brown. The baking time will vary, depending on the amount of filling used in each triangle.
Let cool and enjoy.
RELATED: Dairy Free Tzatiki Sauce