Popcorn is often touted as a healthy snack, but let me assure you party popcorn is more "party" than "healthy". Party popcorn is regular popcorn's rebellious cousin. Take salty, freshly popped popcorn and add smooth white chocolate, sugary sprinkles and milk chocolate treats and you have the perfect treat for Valentine's Day. It's like one big bowl of sweet, sweet love. A big bowl of Valentine's Day party popcorn takes minutes to make and is perfect for the kids' classroom parties, or packaged into individual servings for your child's classmates. Of course, you could always keep a secret stash hidden in the cupboard - but I digress.
Ingredients
2/3 cup of popcorn kernels (or, 2 bags of microwave popcorn)
4 tbsp vegetable oil
salt
1 cup white chocolate chips
1/2 cup red and pink candy coated chocolates
2 tbsp red and pink sprinkles
Directions
Pop the popcorn according to the package directions. If using microwave popcorn, make sure it the popcorn is not butter coated. Use 2 bags of microwave popcorn. For stovetop popcorn, in a lidded pot, heat 2 tbsp vegetable oil and 1/3 cup kernels over medium high heat. Keep the lid open a little, to let the steam out. With oven mitts on, shake the pot as the kernels begin to pop until the popcorn is done popping. Shake a little salt onto the warm popcorn. Set aside to cool in a large bowl.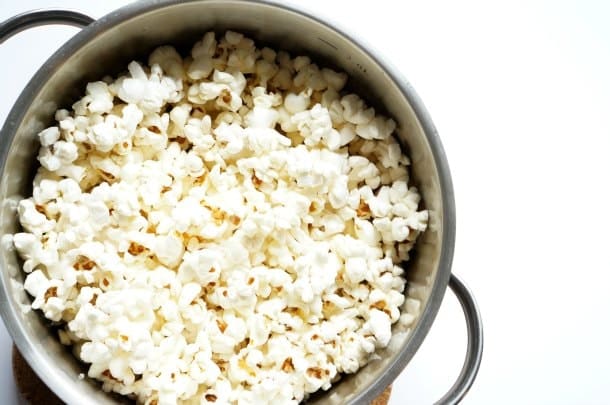 Melt the chocolate chips in the microwave for 20 seconds at a time - until melted. Alternately, melt the chocolate chips over a double boiler on the stovetop. Once melted, use a spatula to spoon the melted chocolate over the cooled popcorn. It might be a little clumpy, that's okay. Stir the chocolate into the popcorn until the popcorn is coated with the chocolate.
.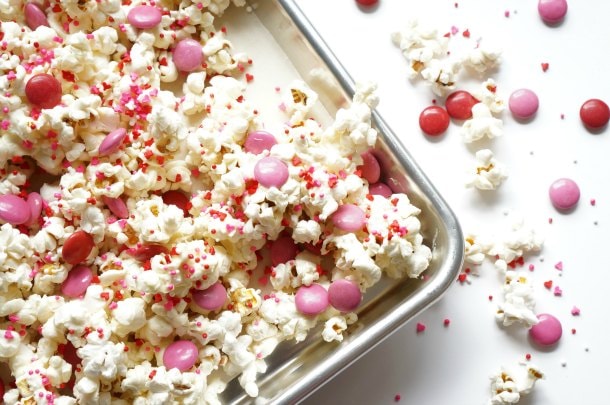 Spread the popcorn onto a parchment paper lined baking sheet and sprinkle with the toppings. Work quickly as the warm chocolate is the glue that will make the sprinkles and candy coated chocolates stick to the popcorn. Set aside to cool and harden.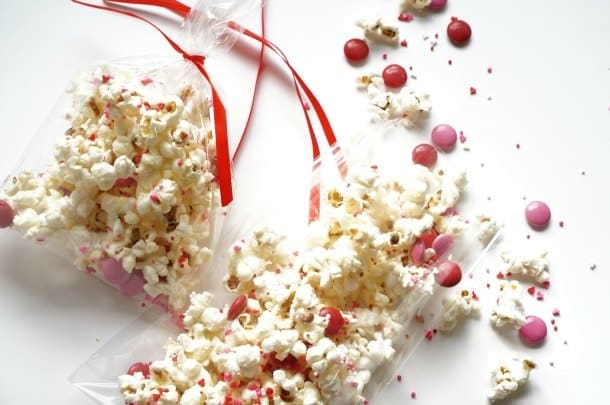 Once cooled serve the popcorn in a bowl or scoop servings into clear plastic bags and hand out to friends on Valentine's Day.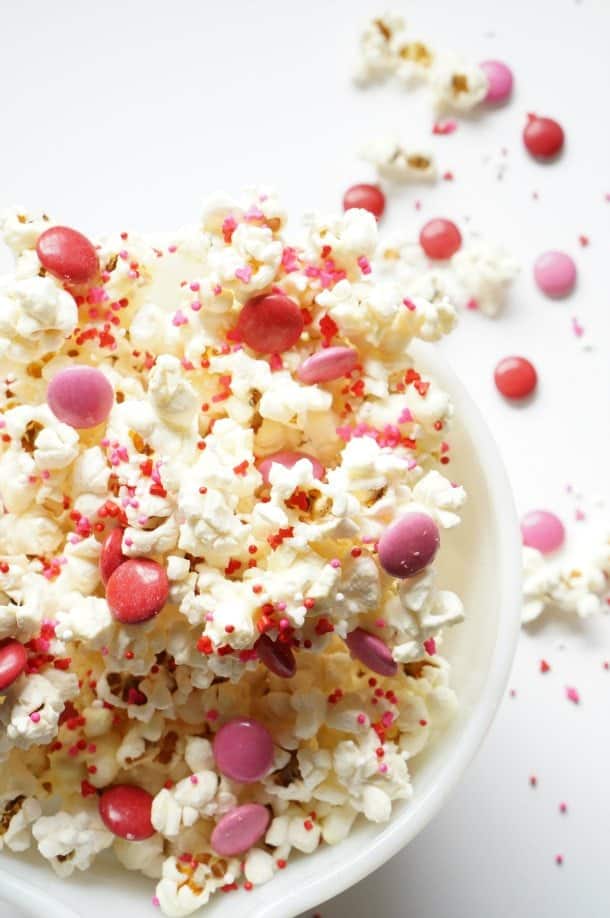 Enjoy!
IMAGES SOURCE: COURTESY OF JEN FARR
RELATED: "Ketchup Chip" Popcorn