Few vegetables are as emblematic of spring as asparagus. Have you ever seen asparagus growing in a garden? My daughters and I discovered stalks of asparagus growing in a strawberry patch last year. It was amazing to see the spiky vegetable poking out of the soil. Asparagus is a great vegetable to get kids excited about gardening.
A simple way to enjoy eating asparagus is with a light and flaky puff pastry tart. Ready made, puff pastry is a home cook's secret weapon. Puff pastry is simple to use and makes a fool-proof base to many different dishes. This spring tart combines seasonal asparagus, green onions, peas, gouda and bacon - because everything tastes better with bacon. Tarts are a fabulous addition to the kids' lunch box or alongside a green salad for lunch or dinner.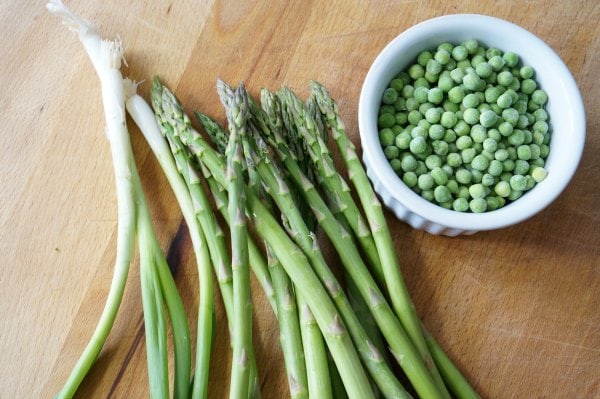 Spring Asparagus Tart
Ingredients:
2 cups grated gouda
1 package of puff pastry, thawed
12 asparagus spears
2 green onions, thinly sliced lengthwise
2 pieces of bacon, baked and chopped
1/2 cup spring peas (fresh or frozen)
1/4 tsp each salt and pepper
1 tsp grated parmesan cheese
1 egg, lightly beaten
1 tsp water
Directions:
On a lightly floured surface, roll the puff pastry to fit your parchment paper lined baking sheet. Place on the baking sheet.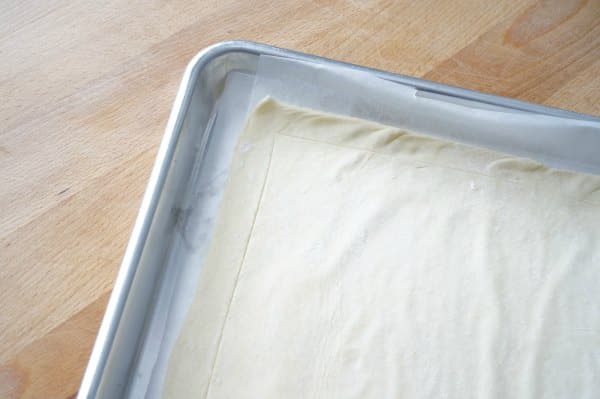 Use a sharp knife to score a line in the puff pastry, about 1/2" from the edge of the pastry.

Scatter the grated cheese over the puff pastry. Keep the cheese inside the inner rectangle, so the edge can rise a little higher and act as a border around the tart.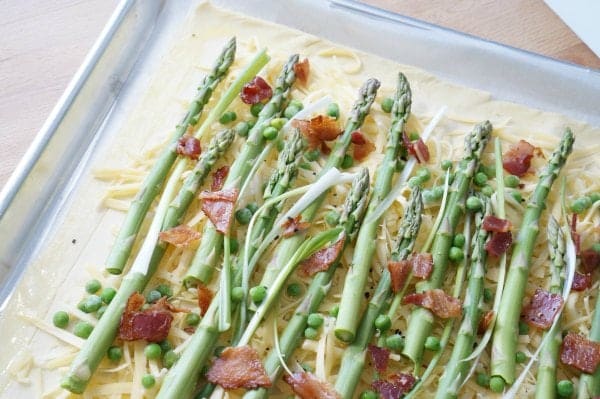 Place the asparagus and green onions on top of the cheese. Scatter with baked bacon, peas, salt and pepper. (I bake up a few strips of bacon on the weekend, and store the baked bacon in a sealed container in the fridge until I need it during the week.)

Combine lightly beaten egg and water...beat together. Brush the egg wash on the edge of the puff pastry.

Bake in 375°F oven for 20-25 minutes - until the edge is golden brown.
Remove from the oven. Transfer to a cooling rack.

Let cool and sprinkle with parmesan cheese before slicing and serving. Enjoy.