Eggnog gets a bad rap at our house. Everyone turns their noses up at the idea of drinking an egg based drink. I'm the only one who really enjoys eggnog. Every holiday season I pick up a carton and I end up drinking it all - which is not great, because eggnog is pretty high in fat. Eggnog is meant to be shared. With a dusting of nutmeg, there are few flavours that capture the holiday spirit like eggnog. This year. I have set my sights at showing my family how delicious eggnog can really be. I was pretty sure that a delicious eggnog Christmas cookie would warm their anti-eggnog hearts.
My secret weapon, as always, is getting my girls into the kitchen and helping me with the baking. They are always willing to at least try whatever they help bake. Over the years my girls have discovered many wonderful new foods while working in the kitchen. Guess what? These soft and fluffy eggnog cookies, with a sweet eggnog icing and a dusting of freshly ground nutmeg were a huge hit. We will be adding these to our family Christmas cookie platter. This recipe for eggnog cookies will have everyone running onto the pro-eggnog side of Christmas.
Ingredients
3/4 cup unsalted butter, room temperature
3/4 cup granulated sugar
2 large egg yolks
1 tsp vanilla
2 1/4 cups all purpose flour
1 tsp baking powder
1 tsp nut meg
1/2 tsp cinnamon
1/8 tsp cloves
1/2 cup egg nog
Eggnog Royal Icing
1 cup icing sugar
1 tbsp meringue powder
2 tbsp cold eggnog
fresh grated nutmeg
Directions

In an electric mixer, cream together butter and sugar until light and fluffy.

Beat in egg yolks, one at a time.

Beat in vanilla.

In a mixing bowl, whisk together flour, baking powder, nutmeg, cinnamon and cloves.

Add flour mixture to wet ingredients, in 3 batches, until combined.


Mix in eggnog. Beat until dough forms.

Scoop 1 heaped tsp of cookie dough onto a parchment paper lined baking sheet. Press dough down, with fingers.

Bake cookies in 350°F oven for 18-20 minutes, until lightly golden brown on bottom.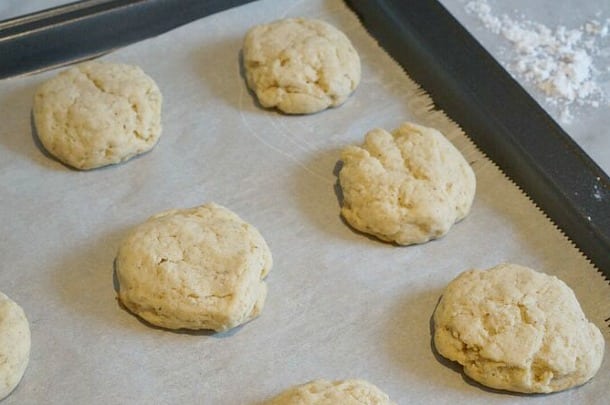 Transfer cookies to a cooling rack.

For the eggnog royal icing, mix together icing sugar, meringue powder and egg nog. You may need to add more eggnog to the icing, if the icing is to thick. Add one extra tsp at a time. If the icing is too loose, add 1 tsp of icing sugar.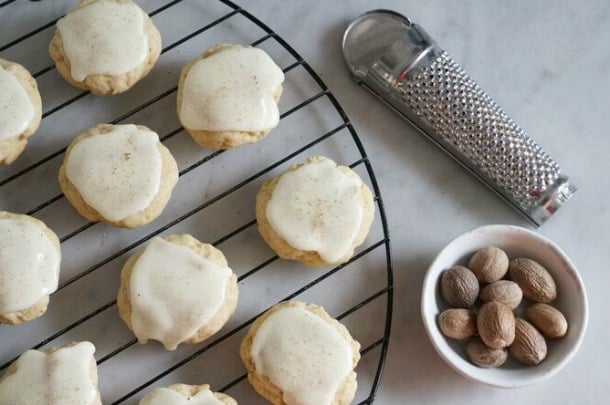 With an offset spatula, or a knife, spread the icing onto the cooled cookies.

Dust cookies with freshly grated nutmeg.

Enjoy
What the kids can do: Baking is a great learning opportunity for kids. Let the kids read the recipe, do all the measuring and mixing. Depending on the age of your child, he can operate the electric mixer too. Pass the icing to the kids and let them "paint" the cookies with icing.
RELATED: Epic Eggnog By The Cup