I can't imagine Thanksgiving without apple pie and I can't imagine Easter without a delicious carrot cake. Carrot cake is the perfect dessert for people who don't like overly sweet desserts. The cream cheese frosting is rich and smooth, but not too sugary. This carrot cake is a great recipe to make with the kids. The recipe calls for a whole lot of shredded carrots, so put the kids to work grating the carrots on a box grater. My girls had fun making all the decorations for our carrot cake out of fondant - of course there had to be a bunny on top. In the end you will have a delicious cake that everyone helped make and that everyone will enjoy.
Carrot Cake with Cream Cheese Frosting
Ingredients
3 cups grated carrots (about 1 lb, 6-8 medium carrots)
1/2 cup finely chopped pineapple
2 1/2 cup all purpose flour
2 tsp baking soda
1 tsp salt
1 tsp ground cinnamon
1/4 tsp ground ginger
2 cups granulated sugar
1 1/4 cup vegetable oil (we use safflower oil)
4 large eggs
1 tsp vanilla
Cream Cheese Frosting
1 1/2 cream cheese
1 cup room temperature butter
1 1/2 cup icing sugar
1 tsp vanilla
Directions

Preheat the oven to 350°F. Butter two 8" round cake pans. Line with parchment paper and butter again.

Combine grated carrots and pineapple in a small bowl and set aside.

Whisk together flour, baking soda, salt, ginger, cinnamon in a small bowl. Set aside.

In an electric mixer cream together granulated sugar, oil and eggs until light yellow. Beat in vanilla.

Add half of the dry ingredients to the wet ingredients and mix until combined. Add half of the carrots and pineapples. Add the second half of the dry ingredients, followed by the carrots and pineapples. Mix until combined.

Divide cake batter equally between the two prepared pans. Bake in 350°F oven for 50-60 minutes, until toothpick inserted comes out clean. Remove from pans and place on rack to cool completely before icing.

For the frosting. Combine cream cheese, butter, icing sugar and vanilla in a medium bowl. Beat until smooth.

Now it's time to assemble the cake. Use a serrated knife to remove the rounded top off one of the cakes. Place a dot of icing in the middle of the cake plate and place the cake with the sliced off top on the cake plate. The dot of icing will hold the cake in place.

Use an offset spatula to spread frosting on the top of the lower layer of cake. Place the second cake on top of the first. Use the spatula to spread frosting over the entire cake. It is best to spread on a thin first layer of frosting. You can place the cake in the fridge to firm up the frosting before spreading the final layer of frosting on the cake.

My daughters used white fondant to make a bunny rabbit, carrots and small dots. They then used food colouring and paint brushes to paint details on the fondant decorations. Set aside to dry before placing on the cake.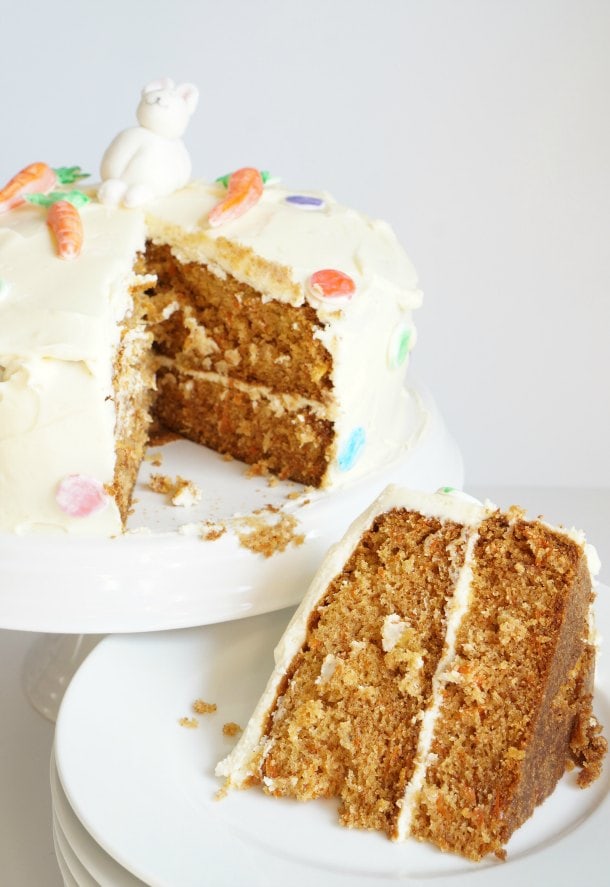 Enjoy.
RELATED: Bunny Bait Easter Trail Mix That's Highly Addictive