I remember being completely intimidated by the thought of making lasagna. All those layers of pasta and sauce seemed like some sort of edible game of Jenga. A recipe for disaster. However, I am not one to be defeated by any food challenge. With a little creativity, I found the perfect way to take out the stacking in lasagna.
This three cheese lasagna roll recipe gives lasagna a totally new spin. Enjoy all the flavours of lasagna, rolled into pinwheels of pasta. Each individual lasagna roll is packed with gooey cheese and flavourful spinach. The compact rolls of lasagna make this recipe ideal for the kid's (and parent's) lunchbox too.
Three Cheese Lasagna Rolls
Ingredients
1 can crushed tomatoes (8oz can)
1/4 cup passata or 1 tbsp tomato paste
1 tsp dried oregano
1 clove garlic, minced
1tbsp olive oil
18 dry lasagna noodles
3 cups spinach or 9 oz package frozen spinach (defrosted)
15 oz ricotta cheese
6 strips of prosciutto
2 cups grated mozzarella cheese
1 1/2 cups grated parmesan cheese
salt and pepper to taste
Directions

To make the tomato sauce, heat oil over medium heat in a sauté pan.

Add minced garlic to the warm oil, sauté until softened.

Pour can of tomatoes, passata (or tomato paste) and oregano to pan and simmer over medium-low heat while preparing the noodles.

Bring a large pot of water to the boil, place the lasagna noodles into the salted water.

Boil for 7-8 minutes, the noodles should be soft but not falling apart, as we need to roll them.

Once softened place noodles on a lightly oiled baking sheet.

In the meantime, prepare the filling.

Finely chop the spinach in a food processor, or drain defrosted spinach in a tea towel. Place spinach in a mixing bowl.

Add ricotta, 1 cup grated mozzarella, 1 cup grated parmesan cheese, chopped prosciutto. Stir until everything is combined.

Assemble the lasagna rolls.

Spread 1 cup of tomato sauce into the bottom of a 9" x 13" baking dish.

Lay out a piece of lasagna and place 2 tablespoons of filling onto the lasagna. Use the back of the spoon to spread the filling along the lasagna noodle. You may need to add more filling, depending on the size of your noodle.

Tightly roll the lasagna noodle and place seam side down in the baking dish.

Continue rolling noodles and tucking them into the baking dish, until the baking dish is full. It took 18 lasagna noodles to fill our baking dish.

Coat lasagna rolls with remaining tomato sauce.

Sprinkle tomato sauced lasagna rolls with 1 cup mozzarella and 1/2 cup parmesan cheese.

Cover baking dish, tightly, with aluminum foil and bake in a 425°F oven for 20 minutes - until sauce is bubbling.

Remove foil and place dish under the broiler until cheese is toasted.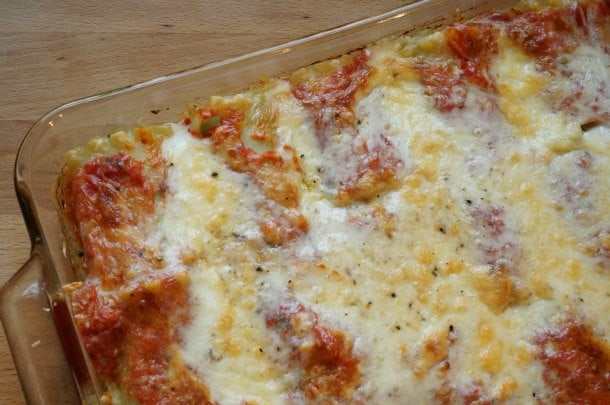 Let the lasagna rolls cool for 10 minutes before serving.

Enjoy!
RELATED: Did You Know You Can Cook Lasagna in Your Crockpot?