Now that the kids are back to school and the after school activities have started up again, weeknights are busier than ever. With a little planning and preparation, a delicious and quick dinner can make it to the table in 20 minutes - beginning to end.
Grab a bunch of kale and an inexpensive flank steak on your next trip to the market. Create a deliciously simple flank steak with kale pesto that everyone in your family will love.
Flank Steak with Kale Pesto
Ingredients
flank steak
3 tbsp soy sauce
2 tbsp honey
1 tbsp sesame oil
1 garlic clove, minces
1/2 inch ginger, grated
1/4 tsp ground pepper
bunch of kale
2 garlic cloves
1/2 cup grated parmesan cheese
1/4 cup slivered almonds (or pine nuts, pecans, pumpkin seeds, or nut of choice)
1/2 cup to 1 cup olive oil
salt and pepper to taste
Directions

In the morning, prepare the marinade for the steak. Combine soy sauce, honey, sesame oil, 1 garlic minced garlic clove, grated ginger and pepper in a large plastic resealable bag.

Add in the steak and place in the fridge to marinade all day long.

At dinnertime - pull the steak out of the fridge and place it on the counter, to come up to room temperature.
.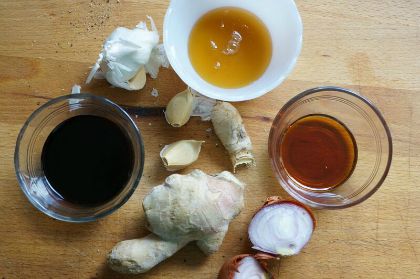 Preheat the oven to broil. Line a baking sheet with foil and set aside.

Prepare the kale pesto by adding kale, garlic, cheese and almonds to a food processor. Process until everything is finely chopped.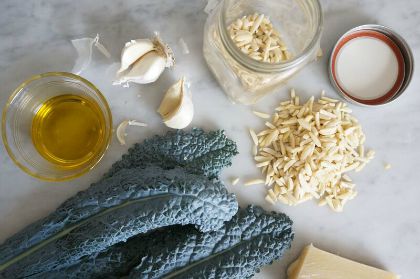 Pour in olive oil, with processor turned on, until pesto reaches your desired consistency. Thinner pesto will need more oil. Set aside.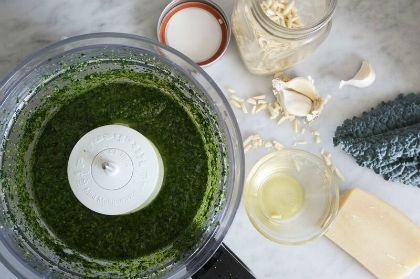 Remove steak from marinade and place on baking sheet.

Pop steak into preheated oven for 5 minutes a side for medium doneness.

Let steak rest for 5-10 minutes before slicing.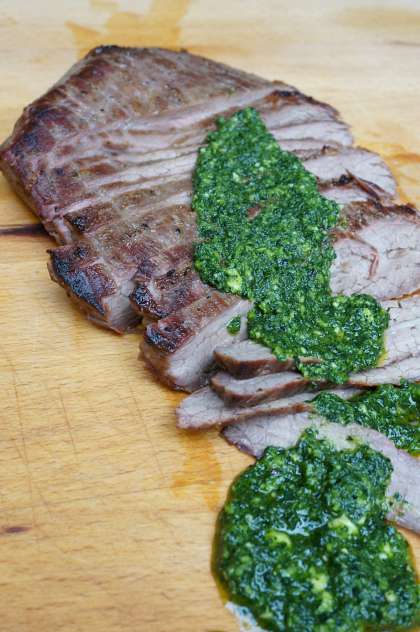 Thinly slice the flank steak, be sure to slice across the grain of the meat to achieve the most tender pieces of meat.

Serve steak with the pesto and a side salad.

Enjoy.
RELATED: The Game Changing Kick Ass Kale Salad