Everybody loves a field trip - especially kids. What if the field trip involved farm fresh food, cheese, wine, and beer? Pretty great field trip, right? The best part about field trips is how much learning takes place while everyone is having fun. There are so many amazing ways to get kids (and adults) excited about food, right outside the grocery store door. With a little planning you can embark on a culinary adventure with the family this weekend.
Head to the Farm
Ever dreamed of owning a farm, but didn't want to wake up at the crack of dawn every single day? Perhaps one weekend on the farm would be okay? Adventurous families who are looking to unplug the devices and plug into farm experience will not be disappointed with a stay on a farm. Kids will learn where the food they find in the market actually comes from. Piebird Vegan Farmstay in Nippissing, Ontario invites guests to spend time with the goats and take a stroll through the gardens.
Family Cooking Class
Preparing food is a fun way to connect with your children, but sometimes as parents we might not have the best kitchen skills. Take a cooking class together. Many culinary schools, community centres and even some grocery stores offer classes that are suitable for families. Spend some time learning a new skill together. The Chef Upstairs, in Toronto, offers a variety of classes for kids, teens and adults - perfect for families.
International Food Market
What better way to learn about a new culture than through exploring the food they eat? A foodie trip to a different country is as simple as heading to an international food market in your city. Step outside the familiar and discover fruit, vegetables and much more from around the globe. Discover the flavours of the world by planning a visit to Vancouver's Chinatown or Toronto's Gerrard India Bazaar. Fill the grocery basket with the ingredients needed to make a dish your family has never tried to make before.
Fish Market
Most of the time fish is purchased at the grocery store, from the freezer or the fish monger counter. When was the last time you visited an actual fish market? There are a lot of different sights and smells to check out at a fish market. Bring along a pad of paper and pencil, see how many fish, crustaceans and oysters the kids can name.
Brewery or Winery
Okay, I'm not suggesting that the kids go in for a sampling, but a trip to a winery or brewery isn't all about drinking. The making of wine and beer is an ancient art. The steps required to turn grapes into wine are fascinating - even to little ones. Go for a wagon ride tour of Small Talk Vineyards, get outside and learn in the fields of grapes. Learn about the science of brewing beer firsthand from the craftspeople who make it everyday. Toronto's Amsterdam Brewery offers public tours every Saturday.
Restaurant Supply Store
If you have never visited a restaurant supply store, then you are in for a treat. The shelves are stocked with a lot more than simple sheet pans and pots. Take your time exploring each aisle and use your imagination to come up with the function of some of the unusual objects and machinery. Spend some time at Nella Food Equipment's gigantic 55,000 square foot store.
Farmers' Market
Do a little research and find out when and where your local farmers' market is. Thankfully, farmers' markets are popping up in almost every community across the country. Give the kids some cash and let them pick out an interesting new fruit or vegetable. Chat with the farmers, they always have great recipe ideas. Don't forget to sample the good, farm fresh eats. Toronto's historic St.Lawrence Market is one of the oldest farmers' markets in Canada and makes a great place to visit for a market adventure.
Community Garden
Community gardens are blooming in parks, schoolyards and green spaces everywhere. Local citizens are finding creative ways to use vacant green spaces to grow food for the community. Don't have a green thumb? No worries. Take inspiration from the community gardeners back to your own backyard or balcony.
Factory Tour
How do they make cheese, chocolate and ice cream? Pick your food of choice and head on a factory tour. Check out all the interesting equipment that is used in the making of your favourite prepared foods. Interested in visiting a factory that only offers school tours, reach out to your child's teacher - maybe a class foodie field trip is in order. Tour the Chocolate FX facility in Niagara, Ontario and enjoy an introduction to chocolate making.
Pick Your Own
Not quite ready for the full farm experience? Plan a day trip to a pick-your-own farm. Most pick-your-own farms are super kid friendly, with outdoor play spaces, corn mazes and wagon rides. Find out the easiest way to pick an apple from a tree, or a berry from a bush. Fill up a basket and then head home to do some baking and enjoy the fruits of your labour. Visit www.PickYourOwn.org to find a complete listing of u-pick farms across Canada
.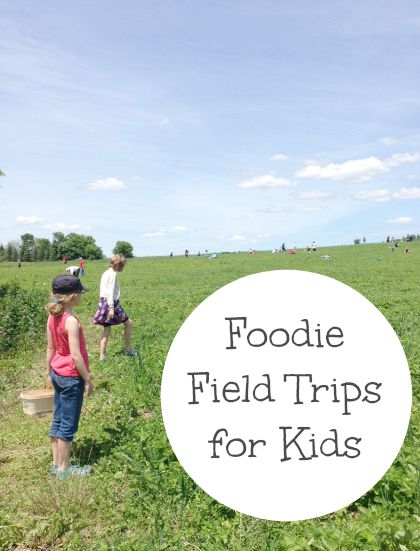 RELATED: Ann Arbor - A Road Trip for Foodies and Families