Our garden has finally hit its stride. The herbs have grown into savoury scented hedges, our beets and carrots are ready to be picked, and our tomato plants are flush with ruby red jewels. All this late summer bounty means that the time has arrived to make one of our all time favourite summer dishes: glorious summer gazpacho. This chilled soup is packed with the fresh flavours of the season; tomatoes, cucumbers, peppers, onion, garlic and basil. While it has taken my daughters some time to come around to the idea of eating a cold tomato soup, they certainly love helping me make this simple dish. Kids love getting their hands messy and gazpacho is the perfect recipe for getting hands on in the kitchen.
Ingredients
5 large tomatoes, peeled and seeded
1 english cucumber, peeled and seeded
1 orange sweet pepper seeded
1 shallot, chopped
1 clove of garlic
1 1/2 cups tomato juice
1 tbsp olive oil
1 tbsp lemon juice
1/2 tsp salt
1/4 tsp pepper
1 tbsp fresh basil and oregano
optional - dash of hot sauce
Directions

To peel tomatoes, cut a shallow "x" in the bottom of each tomato and place in a large heat proof bowl. Pour boiling water over the tomatoes and let them sit for a few minutes. The skin will start to peel away at the "x". Remove the tomatoes from the boiling water and peel the skin off.

To seed the tomatoes, slice the peeled tomatoes into wedges and use your thumb to scoop out the seeds. Let the kids help with this task, it's a lot of fun for little hands. Place the seeded tomatoes in a food processor, or blender.

Peel the cucumber with a vegetable peeler. To seed the cucumber, slice the cucumber in half (lengthwise) and use a small spoon to scoop out the seeds. Again, another simple task for kids to do. Slice the cucumber into small pieces and add to the food processor, or blender.

Add the seeded pepper, chopped shallot and peeled garlic to the food processor or blender. Process until all vegetables are chopped and blended.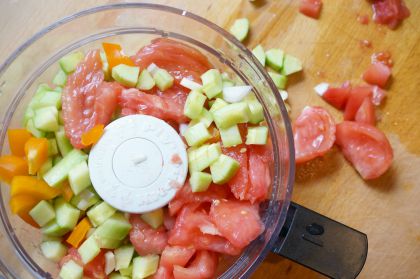 Add the tomato juice, olive oil, lemon juice, salt and pepper and continue to process until the gazpacho reaches the desired consistency. For a spicy gazpacho, add a dash or two of hot sauce.

Transfer gazpacho to a large serving bowl and refrigerate until fully chilled and ready to serve.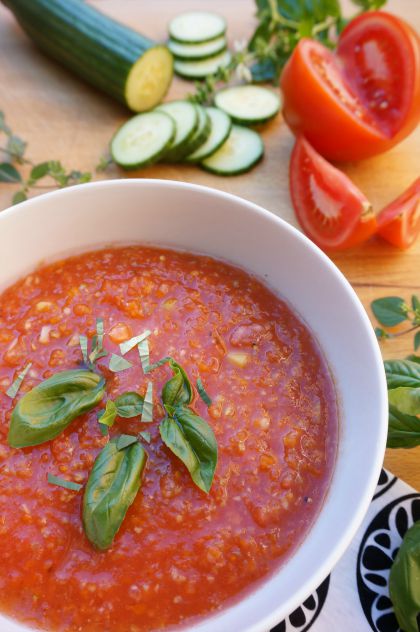 Top each individual serving with basil and oregano leaves. Serve gazpacho in bowls, or for an appetizer serving use shot glasses. Gazpacho make a easy addition to any summer pot luck barbecue or picnic. This recipe makes anywhere from 4-12 servings.

Enjoy.
RELATED: For A Twist On Gazpacho Make It With Watermelon Like This