OK, it's no lie. I have the unpopular opinion that this game is a menace. Most people can't say enough nice things about how much exercise they're getting, but there's a flip side to this coin. When you've got even less reason to put your phone down than usual, there's some bad things about that.
Distracted Living
While you've got your head down, looking at your phone, you might not be paying attention to what's going on around you, and there's some serious consequences to that. People who have been playing Pokemon Go have been walking in roads without situational awareness and impeding traffic (or worse); they've been robbed of the phones that they're conveniently holding out in their hands. And they've just been plain clumsy, being so absorbed in the augmented reality that they fail to notice what's going on in REAL reality, and people have been putting out safety guides.
SAFETY GUIDES.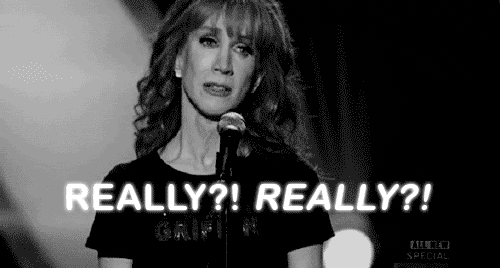 Invasion of Space, Tresspassing, and Loitering
A lot of businesses and even homeowners are being invaded by people searching for Pokemon. Some find it great. Some don't, especially when someone else declared their property a pokestop or even a gym, and people begin showing up on private property at all hours of the day and night.
Loitering Pokemon players have caused problems for 911 operators and responders who are sent out to investigate "suspicious" people hanging out in parking lots and around landmarks. Some businesses and other locations are finding that people wandering around looking for Pokemon is inappropriate at best, or an annoyance for store owners at worst when people wander in without any intention of shopping.
So I guess they aren't a fan
Distracted Driving
Distracted driving is no joke. It can kill. It has killed. It kills A LOT. And if that weren't enough, it ruins lives, too.
Some years ago, my father-in-law, who was driving a large dump truck for work, hit and killed a young man. It wasn't my father-in-law's fault; the kid crossed six feet into the oncoming lane, and my father-in-law couldn't get out of the way. It was a head-on collision caused by distracted driving that the young driver paid for with his life. And not only did he pay the ultimate price, my father-in-law paid too. He had guilt, grief, nightmares, and even health issues afterwards.
Pokemon Go wrecks are a thing. A very real thing. North America already has a serious problem with distracted driving accidents and deaths without people trying to catch Pokemon, and in Ontario, distracted driving killed more people than DUI in 2013. You're up to 23 times more likely to be involved in a crash using a cell phone than someone who isn't. That's a big deal.
Put your phone down, and leave it down, when you drive.
Enabling Predators by Sharing Your Info
Most people play first and think about the consequences of data sharing later. Pokemon Go has this convenient little geolocation feature that shows completely unrelated people where users are, and a feature that lets people create pokestops to specifically lure people to a location. Think about that for a minute. Just imagine what an unscrupulous person might do with do with these two things.
There's already been stories about robbers using the game to create traps for people. And hey, we're putting phones in the hands of our kids. If you don't think something like this could happen, then just check out this guy's little social experiment.
By all means, play the game. But don't be so crazy about the game that you don't play it safe, too.